Chimney Repair Toronto
If you need a chimney repair in Toronto, call Wilkens Contracting Inc.  Our team is made up of well experienced masons who can efficiently and safely handle the repair of your chimney. A well maintained chimney will last for years, but one that is crumbling or is otherwise unsafe puts you at risk of fires and other property damage. If the chimney needs pointing or other repairs we can get that done and extend the life of the existing structure.  In this article by Wilkens Contracting Inc. we will talk about what some of the signs are that indicate that you need chimney repair on your home in Toronto. Read on for more information.
*Before*
What are the signs that your chimney needs repairs?
The first step in getting your chimney back in shape is being able to detect when there is a problem. Here are a few things to look out for:
Crumbling Brick or Mortar Joints:
If the mortar that joins the bricks together or the bricks themselves are starting to crumble, it's time to give us a call. Brick has a long lifespan, but still needs some repairs now and then.
Rusted damper:
The damper is the mechanism that allows you to open and close the chimney above the fireplace If it starts to rust it is probably as simple as your chimney needing to be re-crowned or it may lack a chimney cap.
Full chimney replacement:
If you have an older house, the chimney may be too far gone to be repaired and thus may need to be re-built. This will be apparent if your chimney is leaning or showing signs of major brick deterioration and/or large voids between the bricks. another symptom is that the chimney is leaning or the sides of the structure are "swelling". We do our best to find bricks that match your original ones, including antiques. We colour match the mortar and also finish the top of your chimney to replicate the period design.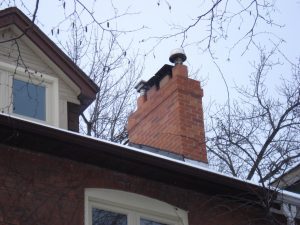 *After*
Our goal is to provide homeowners with high quality chimney repairs for prices they can afford. Our rates are highly competitive, and we are constantly working to improve on our already excellent customer care. By trusting the professionals at Wilkens Contracting Inc. to take care of any repairs, your chimney can continue to work as it should well into the future. Click here to find our contact information and to request a quote.