Fireplace Repairs Toronto
Wilkens Contracting Inc. has been the leader in fireplace restoration in Toronto since 1977. We only work on masonry fireplaces only. Forty plus years of building and maintaining wood burning fireplaces only makes us very knowledgeable on the subject.
The main things to check on a fireplace are the condition of the hearth extension, the solidity of the firebrick interior and the operation of the damper. If your fireplace is smoking into the room it is usually caused by one of the following. The opening is too large for the chimney flue size, the damper is not high enough above the top of the opening or someone has placed a flue tile at the chimney top which is restricting the drought.
At Wilkens Contracting Inc. we are often asked to redesign the fireplace completely. With new renovations being done some of the older designs don't fit in. We can completely rebuild the fireplace into the original structure giving you a fireplace that suits the new look of your home. That being said, many homes have stunning fireplaces and the design of the room can be worked around the fireplace itself.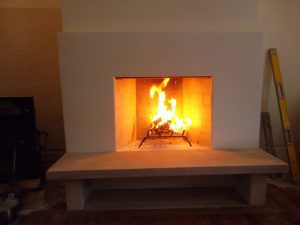 Fireplaces have been around since before the wheel. They are not mysterious and properly used they are not dangerous. We don't deal in gas or electric units because we are a masonry company and personally we feel a wood burning fireplace is simply the most pleasurable fireplace to have. Take a look at the main web site at Wilkens.ca and you will find the anatomy of a fireplace. This will help you understand the structure and will also help you check the various parts of your fireplace to ensure its operational design. Feel free to call us and we will surely be able to help you have the fireplace you would like.